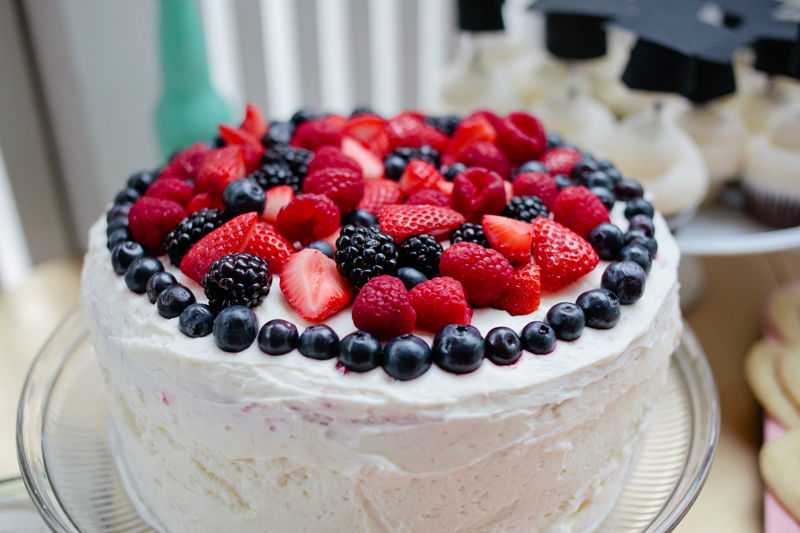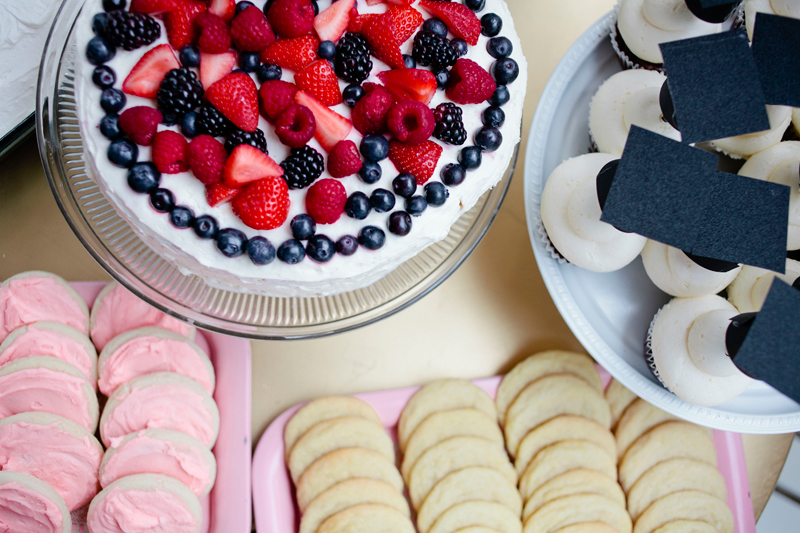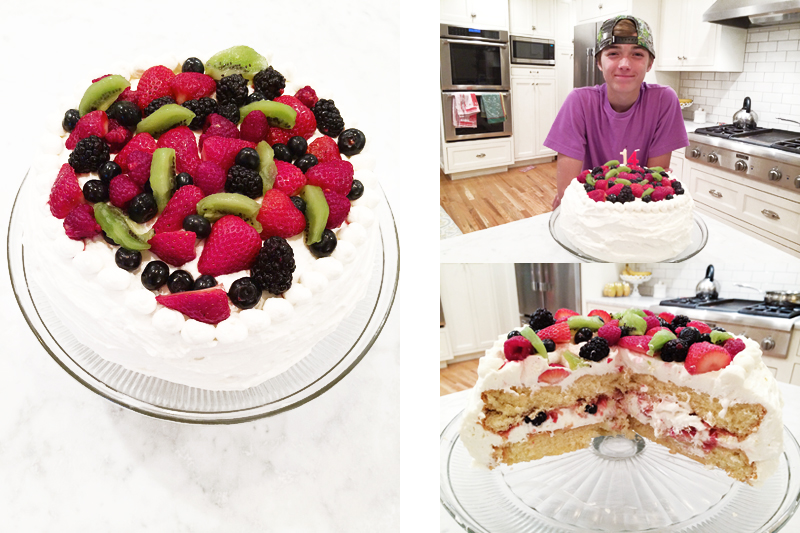 Years ago Will and I stumbled upon the most amazing cake while browsing Whole Foods. It immediately won our hearts, and our taste buds. So much so that every year for our anniversary, birthdays, etc we do our best to make the 40 minute drive to the closest Whole Foods to get a piece. But this year, for Aden's birthday I thought why waste the gas…I'll just try to make it myself. And man alive am I glad I did. It turned out so yummy that I made it again just a few weeks later for our girls graduation party. I scoured the internet for a recipe but couldn't find one that seemed to be just right, so I adapted a few things from a few different recipes I found to make one of my own. There are several layers, if you may, to this cake, so the ingredients for each part are listed separately.
Berry Chantilly Cake
For the Cake, You will need:
1 cup butter
1 1/2 cups sugar
8 egg yolks
3/4 cup unsweetened vanilla almond milk
1 1/2 tsp almond extract
2 cups + 2 T (for dusting the pan) unbleached flour
2 tsp baking powder
1/2 tsp salt (i use pink Himalayan salt)
Preheat oven to 350 degrees for conventional, 325 degrees for convection. Lightly grease the bottom and sides of two 8 inch round pans with some soft butter. Line to bottom of the pans with parchment paper, then grease on top of the parchment paper and dust with flour. Set aside. Sift together dry ingredients; flour, baking powder and salt. Set aside.
In a large bowl, cream butter and sugar until light and fluffy. Beat in the egg yolks one at a time. Mix in the almond extract, then add the flour mixture alternately with the unsweetened vanilla almond milk until well combined. Pour batter equally into both prepared pans. Bake for 25-30 minutes, or until the tops spring back when tapped. Cool on a cooling rack for 15-20 minutes before removing from pan.
For the Berries:
1 cup fresh raspberries
1 cup fresh strawberries
1/2 cup fresh blackberries
1/2 cup fresh blueberries
1/4 cup fresh squeezed orange juice
1 tsp orange zest
2.5 oz Grand Marnier (roughly 1 1/2-2 shots worth)
Rinse and drain berries. Combine orange juice, orange zest and Grand Marnier. Pour mixture over berries and let soak for about 30-40 minutes in refrigerator.
For the Raspberry Glaze:
1 1/2 cups raspberries
1/4 cup sugar
1 Tbsp lemon juice
1 tsp corn starch
Combine all ingredients in saucepan over medium-low heat until raspberries have broken down. About 10 minutes. Strain seeds if you'd like (I didn't) and let cool slightly before use.
For the Frosting:
2 cups of heavy cream
8 ounces of cream cheese (room temperature)
8 ounces of mascarpone cheese (room temperature)
1 1/2 cups confectioners sugar (i think i used 1 3/4 cups the 2nd time I made it for some extra sweetness)
1 1/4 teaspoon almond extract
Mix heavy cream and almond extract with an electric mixer until peaks form. In another bowl mix together the cream cheese and mascarpone cheese just until combined. Add confectioners sugar 1/2 cup at a time until combined. Gently fold whipped cream into the cream cheese/mascarpone mixture. You want to make this when you are completely ready to assemble your cake, as it's best used immediately.
Assemble your cake:
Place a layer of cake on your cake stand. Spread a thin layer of raspberry glaze over cake bringing about an inch in from the edge and let soak in for a minute or two. Spread a layer of frosting on top of raspberry glaze (make sure to bring the edges of the frosting up a little higher than the center, similar to a saucer), then add a single layer of fresh berries. Top with another thin layer of frosting, then add the second layer of cake. Repeat by spreading raspberry glaze, then frost your entire cake. Top with the rest of the fresh berries.
This cake is best enjoyed fresh. Although, it stays well refrigerated for a couple of days too! I hope you enjoy it as much as we do around here!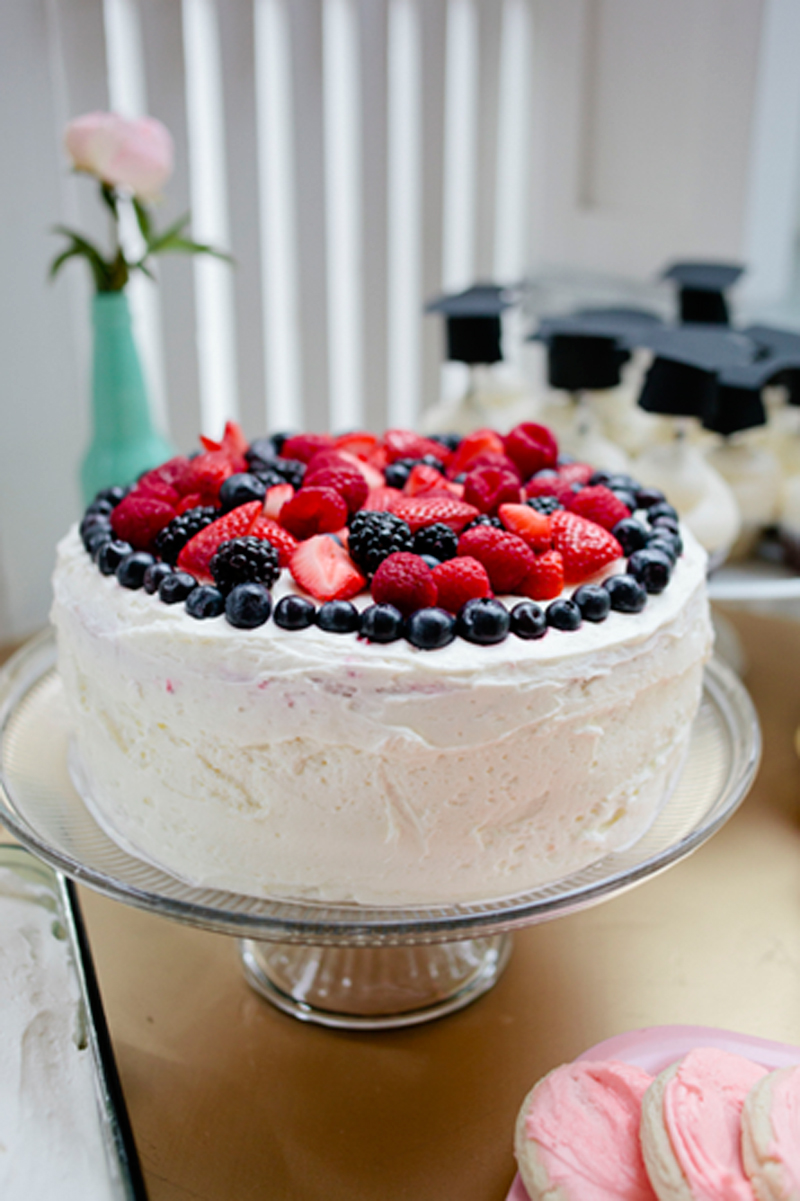 Photos: Samantha Broderick Photography