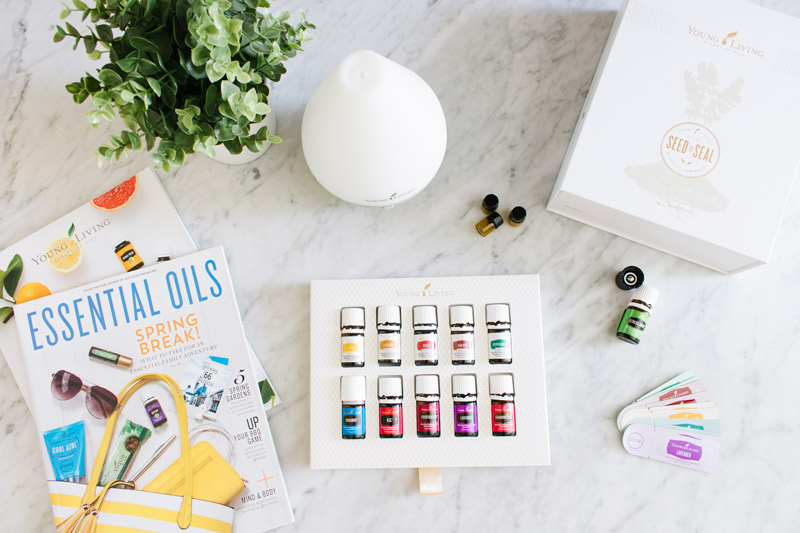 I'm so happy that you're here and ready to join me in my love for essential oils!
To purchase oils, ORDER HERE and make sure the number 12038548 appears in both the "Enroller" and "Sponsor ID" fields.
Sign up as a Wholesale Member (recommended), this does not mean you have to sell oils ever, it just means you are getting a starter kit & will therefore get 24% off retail prices.
We love the Premium Starter Kit (shown above) because it contains the Everyday Oils Collection which consists of 11 of our most used oils and a FREE diffuser! We love and recommend the Dew Drop diffuser. When you purchase this kit you get nearly $300 worth of product for $160, such a steal!
Wholesale Member Benefits include
24% off retail prices – incentive enough
No minimum orders, order as much and as often as your heart desires.
No annual fee, just purchase $50pv of product per calendar year to keep your account active.
Member number to share with friends; if they order using your member number, you'll receive compensation (but, again, enrolling as a "Wholesale Member" does NOT mean that you have to share oils with anyone ever; although, once you discover how wonderful they are, it will be hard not to tell your friends!)
And the best part is when you sign up as a wholesale member, you have the option of joining our private wellness group on Facebook, which is where you can learn everything you need to know about using your oils & connect with an amazing, inspiring community.  If you are interested in selling the oils and sharing about the company, I am passionate about helping women earn income to help support their families! We have monthly business bootcamps & provide mentorship to everyone who joins our tribe!
Sign up as a Customer
no starter kit required
order any quantity whenever you want, but pay 24% more.
I love that Young Living offers it's oils for purchase both ways. Because it makes it about their products without any pressure to share oils at anytime. However, I still recommend signing up as a "Wholesale Member" as the cost of the starter kit alone is recovered so quickly with all of the savings you get off of retail pricing. And no one can ever regret saving money!
If you still have questions or just want to chat more about oils shoot me an email here. Or see this page for an explanation to WHY we use oils in our family.
***Any suggestions made on this blog are very specific to Young Living essential oils and should not be used with oils from another source. Statements made on this website about Young Living Essential Oils have not been evaluated by the FDA. These products and information are not intended to diagnose, treat, cure or prevent any disease. Anyone suffering from disease or injury should consult with a physician. If you are currently on medication, please do not stop.